Europeans Seize the Day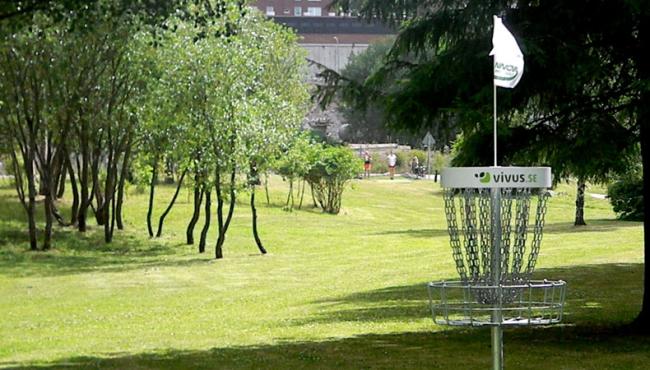 Azure skies greeted the players as they arrived at Jarva DiscGolfPark for the opening round of the 2014 European Masters, the sixth of ten PDGA Major Events of the year. While some players discs soared in the auspicious conditions of Stockholm, others were brought back to earth abruptly as their throws failed to negotiate the tight OB lines and gaps between the groves of birch trees.
After 18 holes, Europe's top two players, Simon Lizotte #8332 of Germany and Karl Johan Nybo #28903 of Denmark, are tied for the lead with USA's smooth-throwing Will Schusterisk #29064. They tamed the 2772 meter (9100') course with huge drives, accurate approaches, and smooth putts to finish the day in a 3-way tie for the lead, all with rounds unofficially rated at 1065.
Lurking on their tails just a single stroke away is 2X defending PDGA World Champion Paul McBeth #27523, while Finland's Pasi Koivu #41251 is three back in fifth place. All told, none of the seven highest rated players at the event are in any way out of contention. Nate Doss #11794, Dave Feldberg #12626, and Ricky Wysocki #38008 each turned in scorecards in the the upper 50s today on the par 64 Jarva course.
Perhaps the opening round's most impressive performance was turned in by Swedish superstar Ragna Bygde #8559. After months of touring thousands of miles away in the United States, she's finally competing on her home course. Her round of one under par, unofficially rated at 1001, gives her a three to six stroke advantage over the world's top rated women players: Catrina Allen #44184, Paige Pierce #29190, and Val Jenkins #17495, respectively.
A little further off Bygde's pace are two of her fellow Swedes, who've been out of the disc golf spotlight in recent months. Camilla Jernberg #35774 is competing for the first time in two years after recently giving birth to a baby boy and 2004 PDGA Women's World Champion Birgitta Lagerholm #15916 is here comepting as well after playing only a handful of sanctioned events since 2010.
Join us tomorrow as the battles for the titles continue here at the 2014 European Masters. The race for the 264,000 Kroner ($40,000 USD) purse will only continue to intensify as each day passes. Live hole-by-hole scoring will be available for every player in the event, updated every 6 holes, on PDGALive.com. Follow the action on our Instagram, Twitter, and Facebook accounts or by searching and using the hashtag #MastersDiscGolf.