|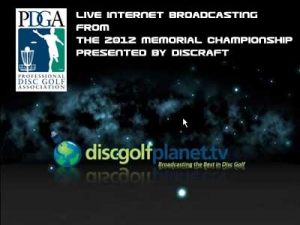 For the third straight year, the Professional Disc Golf Association has teamed up with DiscGolfPlanet.tv to provide live Internet broadcasting from The Memorial Championship presented by Discraft.
"We are especially grateful to the PDGA for understanding and appreciating our mission at Disc Golf Planet," explained John Duesler, Principal at the sports media company. "Like the PDGA, we too are working to grow our great sport, especially by attracting the non-PDGA, non-tournament disc golfer to our broadcasts," Duesler continued.
And there is plenty of evidence that streaming events, like The Memorial Championship, is going a long way towards achieving those objectives.
In just the four biggest show of last season, Disc Golf Planet is averaging 33-35,000 unique viewers per event (more than double the number of active PDGA Members) and has been seen in 147 nations (almost 5x the number of countries than where disc golf courses are installed).
The Memorial Championship will again launch the Disc Golf Planet broadcast season, as well as the PDGA National Tour. Both the climate and the competition at Scottsdale's Vista del Camino course and The Fountain Hill Lake Course serve as a tremendous stage to spotlight disc golf's top players, as well as one of the sport's top events.
More times than not, the Memorial has been a springboard for players to carry the momentum of their success in the desert with them throughout the entire touring season. Clearly, last year's Women's Open Memorial titlest, Paige Pierce, used her win in Arizona to gain confidence throughout all of 2011, which culminated in her PDGA World Championship performance.
Though, Paul McBeth did not win a World Championship last year, his wire-to-wire win at the 2011 Memorial set the stage for a stellar 32 event, 17,000+ point, $23,000 earnings year, that also included a win in Tali, Finland. It was the best year yet in his young career.
There will be plenty of challengers, however, for both McBeth and Pierce in Arizona. Nate Doss caught fire after being a Memorial finalist last year and is now disc golf's number one ranked player. Paul Ulibarri, a local to the Scottsdale area, has the skills to supplant anyone at the top of disc golf mountain. Other players of note at the 2012 Memorial will be David Feldberg, Nikko Locastro, Jussi Meresmaa, and Ricky Wysocki.
On the women's side, Pierce will again have Valarie Jenkins to contend with, and Europe's top female disc golfer, Camilla Jernberg, has made the trip to The Memorial this year, as well. Emerging talent Sarah Hokom will also be in the field and looking to expand upon the great success she had on last year's PDGA Tour.
Disc Golf Planet and the Professional Disc Golf Association are pleased to bring you the action from the Arizona desert. Join Disc Golf Hall of Famers David Greenwell and "Crazy" John Brooks LIVE when coverage begins on Wednesday, February 29th from the Vista del Camino course with the Men's Super Group play. Live Internet broadcasting will continue through Thursday, Friday and Saturday from Arizona, with Friday's coverage entirely dedicated to the Women's Open division in Scottsdale.
You can check out our broadcasting schedule and more at DiscGolfPlanet.tv. Just click on the "Watch DGP.tv Now" link on the top menu.