Day One: US Masters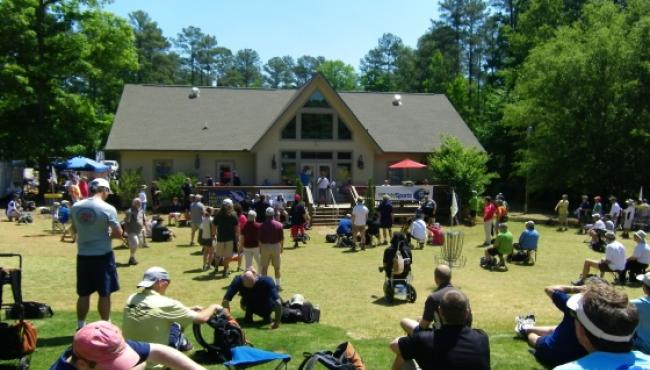 The atmosphere at the International Disc Golf Center this weekend is electric! The 2010 Tim Selinske US Masters Championship is underway.
Bringing competitors and spectators from all across the US, this event has been a reminder of just what this sport is really about – the love of the game. Just picture it…sunny skies with a slight breeze, azaleas in full bloom, chains rattling from the practice grounds, hugs and handshakes from long lost friends, playful bantering for bragging rights of the upcoming round….this "picture" was what Selinske ingrained in our hearts. Just have fun!
Selinske was with us in spirit as the three courses were packed with action this afternoon with the first round now in the books. Entering the clubhouse off the Headrick course with a 49, Wisconsin's Barry Schultz was all smiles after he jumped to the top of the leader board in the Masters division. His -15 was the talk of the crowd until California's Patrick Brown walks in with a jaw-dropping 47. Two incredible rounds, without a doubt! Following close behind are South Carolina's Hal Cauthen (52), Georgia's Phil Arthur and Oklahoma's Ron Convers (53). Honorable mentions are Florida's Ken Climo, Georgia's Brad Hammock, and Tennessee's Jerry Harmon all with scores of 54.
The Advanced Masters field is neck and neck after competing on the Jackson course, the IDGC's longest of the three courses. North Carolina's David Gebhardt is in the lead at 69. Eight competitors are within 3 throws of Gebhardt which will put some pressure into tomorrow's round to maintain the lead.
California's Laurie Stroh leads Advanced Masters Women after competing on the newest course at the IDGC, the Warner course. In Advanced Grandmasters, also competing on the Warner course, Washington's Paul Wright is the proud owner of a 6 stroke lead. Joining them on the Warner, we have a tie in the Advanced Senior Grandmasters between Augusta locals Chuck Hornsby and Pete May, both with a 62.
As this is the first PDGA Major to be held at the IDGC, the competitors are making sure it is memorable, both on and off the course. Activities are planned each evening with tonight's being a Blues Festival held at the Columbia County Amphitheater. Saturday evening will keep the action at the IDGC with a complimentary barbecue dinner for all competitors and live acoustic entertainment. Rumors of a freestyle "talent show" is also in the works.
This weekend is sure to keep the love of the game alive! Come out and join us or watch www.pdga.com for the latest updates.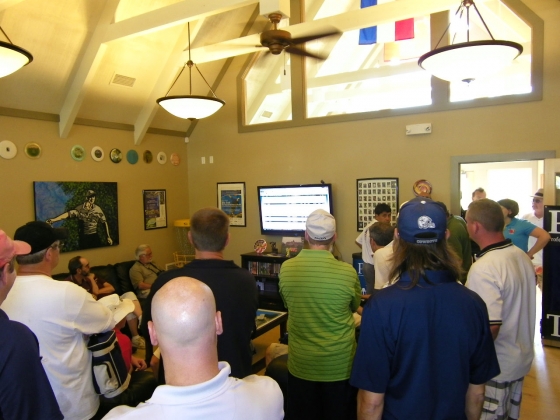 Competitors gather in the Commons Room of the IDGC to watch the scores scroll across the big screen.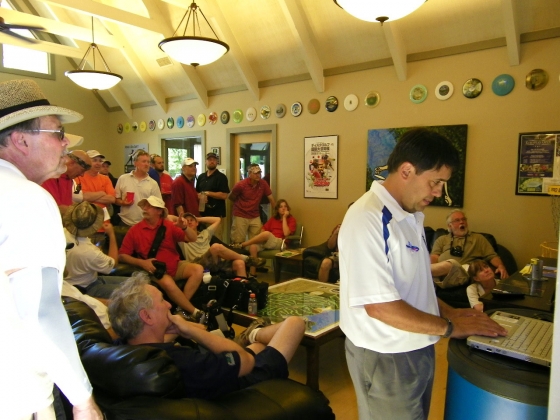 ---
2010 Tim Selinske U.S. Masters Video Coverage: