Developing a new course from the ground up is a major undertaking that involves not only local disc golfer volunteers but help from design experts and support from others in the community for approval, equipment, labor and finances. Dr. John Duesler, a designer in the Disc Golf Course Designers group, leads you thru the sequence of steps from start to finish: Planning – Proposing – Designing – Installing – Promoting – along with providing links to resources on the internet in addition to the helpful documents provided here.
Getting a New Course Approved
Sample proposal to persuade a community to install a disc golf course. Based on the successful San Francisco proposal.

Tom Monroe, Matt Gillis, Pat Farrell and Chuck Kennedy working on the Steady Ed Course at the IDGC
Reference Articles
Course Design Guides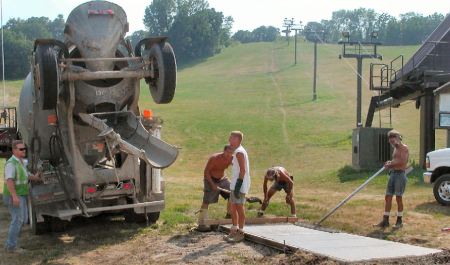 Pouring tee pads at Hyland Ski & Snowboard Area in Bloomington, MN.