Collegiate Standings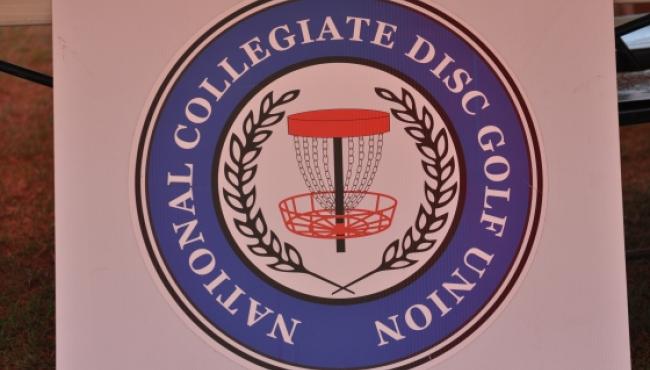 Day two of the 2010 Collegiate Disc Golf National Championship has been successfully completed and the cream is beginning to rise to the top.
Western Illinois University continues to lead the team standings at -42 with strong play in todays singles rounds. The format had the top 3 individual scores from each 4 person team counting towards a team total with all teams playing a round on both the Hippo and the Hogback courses at the Hippodrome. The University of Oregon is three throws behind at -39 with local Augusta State University seven throw off the lead at -35. Saturday will see two more rounds of singles using the same format as today, before a final round of doubles on Sunday morning with tee times to finish out the team event.
In the individual medalist standings, James Williams of Alabama Birmingham sits atop the leader board at -10 with a host of others nipping at his heals. It is really anyones tournament at this point and tomorrow's single rounds will determine the individual medalist. The top 6 individuals will be named to the 4th All America Team.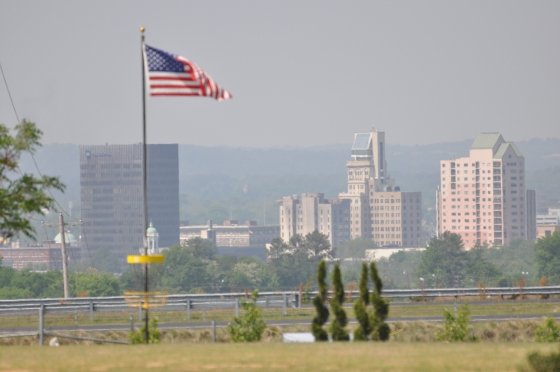 The Collegiate Guts competition had teams from many schools vying for the title but it was hometown favorites Augusta State University taking the title with a victory over Mississippi State University in the finals. Players and competitors were treated to a pizza dinner as the Guts competition unfolded in one of the indoor horse arenas at the Hippodrome.
Stay logged in to PDGA.com all weekend for additional updates.
Red - Hogback Course  ~  Blue - Hippo Course 

 
University
Competitor

R1

R2

R3

R4

Total

Par

1

Ala Birminghom

James Williams

50

48

 
 

98

-10

2

Western Illinois

Scott Parik

49

50

 
 

99

-9

3

Oregon

Chris Becker

52

48

 
 

100

-8

4

Augusta State

Lee Jones

52

49

 
 

101

-7

5

Augusta State

Patrick May

46

57

 
 

103

-5

5

Oregon

Cody Cornett

50

53

 
 

103

-5

5

UGA

Adam Schneider

51

52

 
 

103

-5

8

Oregon

Nate Bush

47

57

 
 

104

-4

8

Arkansas

Erik Bailey

49

55

 
 

104

-4

8

Mississippi State

Drew Davis

51

53

 
 

104

-4

8

Mississippi State

Robert Stroup

55

49

 
 

104

-4

12

Arkansas

Ryan Black

50

55

 
 

105

-3

12

Georgia Tech

Chris Rodesney

50

55

 
 

105

-3

12

Oregon

Noah Politzer

53

52

 
 

105

-3

15

Augusta State

Jason Lynn

47

59

 
 

106

-2

15

South Carolina:

Alan Kane

51

55

 
 

106

-2

15

Western Illinois

Kenny Glassman

52

54

 
 

106

-2

18

Ala Birminghom

Justin Lesley

47

60

 
 

107

-1

18

Kansas State

Kevin Tulp

51

56

 
 

107

-1

18

Clemson

Austin Finley

56

51

 
 

107

-1

21

Indiana of Penn

Dave Viscon

54

54

 
 

108

0

21

Alabama

Kyle Henderson

54

54

 
 

108

0

21

Indian Hills

Zack Hill

54

54

 
 

108

0

21

Indian Hills

Rich Kennedy

54

54

 
 

108

0

21

Penn State

Brian LaChance

58

50

 
 

108

0

26

Cal St Monterey Beach

Daniel Messina

56

53

 
 

109

1

26

UGA

Pete McPherson

59

50

 
 

109

1

28

UGA

Nick Evans

49

61

 
 

110

2

28

Penn State

James Kelly

51

59

 
 

110

2

28

Tennessee Tech

Jordan Davidson

53

57

 
 

110

2

28

Indiana of Penn

Seth Diehl

53

57

 
 

110

2

28

UGA

Lucas O'Meara

57

53

 
 

110

2

33

Kansas State

Jake Trochelamn

53

58

 
 

111

3

33

Georgia Military Coll

David Wolff

53

58

 
 

111

3

35

Ala Huntsville

Scott Turner

53

59

 
 

112

4

35

GCSU

Jake Wagener

55

57

 
 

112

4

35

Ala Huntsville

Nathan Pitts

54

58

 
 

112

4

35

Augusta State

Stephen Cordaro

57

55

 
 

112

4

39

Tennessee Tech

Anthony Phillips

53

60

 
 

113

5

39

Florida

Brian Niemann

55

58

 
 

113

5

39

Georgia Military Coll

David Edwards

58

55

 
 

113

5

39

Cal St Monterey Beach

Nick Maffei

59

54

 
 

113

5

43

Appalachian State

Burt Hudson

50

64

 
 

114

6

43

 Mississippi State

Daniel Rhea

54

60

 
 

114

6

43

Florida

David Wang

55

59

 
 

114

6

43

South Carolina

Tim Jeffreys

56

58

 
 

114

6

47

Indian Hills

Tim Ragen

54

61

 
 

115

7

47

Appalachian State

Kirk Dresden

57

58

 
 

115

7

47

Georgia Southern

Geoff Carr

58

57

 
 

115

7

47

Tennessee Tech

Ryne Roberts

61

54

 
 

115

7

51

GCSU

Taylor Kahn

53

63

 
 

116

8

51

Clemson

Stuart Neal

55

61

 
 

116

8

51

Ala Huntsville

Jared Dulaney

56

60

 
 

116

8

54

Georgia Tech

John McGuffie

60

57

 
 

117

9

54

Kansas State

Kevin Clouse

61

56

 
 

117

9

54

Clemson

Trey Jordan

62

55

 
 

117

9

54

Ala Birminghom

Nick Fowler

63

54

 
 

117

9

54

Life University

Phil Wygonski

63

54

 
 

117

9

54

Appalachian State

Devin Lacey

63

54

 
 

117

9

60

South Carolina

Hudson Harper

51

67

 
 

118

10

60

Life University

Francisco Colon

57

61

 
 

118

10

60

Georgia Military Coll

Drew Lasure

60

58

 
 

118

10

60

Alabama

Conor Bentley

60

58

 
 

118

10

60

Arkansas

Jason Daniel

61

57

 
 

118

10

60

Arkansas

Tyler Owens

62

56

 
 

118

10

66

Cal St Monterey Beach

Danny McQuillian

53

66

 
 

119

11

66

Ala Birminghom

John Roberts

58

61

 
 

119

11

66

Tennessee Tech

Alex Callis

60

59

 
 

119

11

66

Ala Huntsville

Jared Neal

61

58

 
 

119

11

70

Alabama

David Croomes

56

64

 
 

120

12

70

Life University

Shawn Vanwinkle

60

60

 
 

120

12

70

Georgia Tech

Conner Beveridge

64

56

 
 

120

12

73

Clemson

Drew Burgess

58

63

 
 

121

13

73

Cal St Monterey Beach

James Lustwader

58

63

 
 

121

13

75

Life University

Eric Axmacher

58

64

 
 

122

14

75

GCSU

Tyler Sturgis

61

61

 
 

122

14

75

Indian Hills

James Haff

61

61

 
 

122

14

78

Georgia Tech

Alex Harkey

53

70

 
 

123

15

78

Alabama

Andy Freeman

65

58

 
 

123

15

80

Florida

Josh Orton

63

61

 
 

124

16

81

Penn State

Kyle Box

60

65

 
 

125

17

82

Appalachian State

Brian Kossol

57

69

 
 

126

18

83

GCSU

Haley Reese

67

60

 
 

127

19

84

Georgia Southern

Chip Morgan

64

65

 
 

129

21

84

Indiana of Penn

Chris Fusco

68

61

 
 

129

21

84

South Carolina:

Kevin Allison

71

58

 
 

129

21

87

Kansas State

Tom Oldfather

70

61

 
 

131

23

88

Penn State

Adam Wloskowski

75

57

 
 

132

24

89

Georgia Southern

C.A. Jones

61

72

 
 

133

25

90

Georgia Southern

Thomas Griswald

63

74

 
 

137

29

90

Indiana of Penn

Brad Sullivan

72

65

 
 

137

29

Alternates  -  Not Eligible for Individual Medalist Competition

 

Mississippi State

Wright Morman

-

49

 
 
 
 
 

Western Illinois

John Manuell

-

50

 
 
 
 
 

Western Illinois

Ryan Gavrick

54

-

 
 
 
 
 

Alabama

Ben Wales

-

60

 
 
 
 
 

Florida

Robert Rooney

-

61

 
 
 
 
 

Florida

Luke Gommermann

62

-

 
 
 
 
 

Western Illinois

Nick Rampson

62

-

 
 
 
 
 

Mississippi State

Andy Jones

63

-

 
 
 

 
 

 

Doubles

Singles (3-man total)

Dbls

 

Score

 
 

R1

R2

R3

R4

R5

R6

R7

 

Tot

Par

1

Western Illinois

38

44

156

152

 
 
 
 

390

-42

2

Oregon

44

46

158

145

 
 
 
 

393

-39

3

Augusta State

40

49

166

142

 
 
 
 

397

-35

4

Alabama Birmingham

42

41

171

149

 
 
 
 

403

-29

4

Mississippi State

43

43

168

149

 
 
 
 

403

-29

6

Arkansas

39

46

171

155

 
 
 
 

411

-21

7

Georgia

43

51

168

150

 
 
 
 

412

-20

8

Kansas State

40

47

175

160

 
 
 
 

422

-10

9

South Carolina

47

42

178

160

 
 
 
 

427

-5

10

Tennessee Tech

50

41

177

160

 
 
 
 

428

-4

11

Indian Hills

52

46

169

162

 
 
 
 

429

-3

12

Alabama Huntsville

48

42

173

167

 
 
 
 

430

-2

12

Clemson

49

41

179

161

 
 
 
 

430

-2

12

Cal State MB

50

42

178

160

 
 
 
 

430

-2

15

Penn State

50

46

182

158

 
 
 
 

436

4

16

Indiana of Pennsylvania

47

45

179

168

 
 
 
 

439

7

17

Appalachian State

45

50

184

161

 
 
 
 

440

8

18

Georgia Military

52

47

174

168

 
 
 
 

441

9

19

Georgia Tech

52

52

179

159

 
 
 
 

442

10

20

Georgia College

51

45

181

168

 
 
 
 

445

13

21

Life University

45

47

184

171

 
 
 
 

447

15

22

Florida

42

55

180

171

 
 
 
 

448

16

23

Alabama

45

47

189

168

 
 
 
 

449

17

24

Georgia Southern

54

48

194

181

 
 
 
 

477

45
---
LINKS:
VIDEO - Friday Video Coverage by Clash Productions 
National Collegiate Disc Golf Union
MEDIA COVERAGE:
WRDW Television News (with video clip)