2009 National Collegiate Disc Golf Championship
The National Collegiate Disc Golf Union (NCDGU) is pleased to announce that the 3rd annual National Collegiate Disc Golf Championships will be held on April 17-19, 2009 at the Hippodrome Disc Golf Course in North Augusta, SC.
---
The NCDGU has been working diligently to continue the growth and exposure of collegiate disc golf. The championship has grown from 6 teams in the first year to a full slate of 20 teams in 2009 with an additional number of teams competing in the First-Flight Division. In 2009, the Collegiate Championships will play host to teams coming from all across the country including Southern California, Oregon, and Nebraska. The NCDGU is excited and passionate about the direction that collegiate disc golf is headed.  
Last year, the University of Georgia capped off a great weekend of disc golf action with a solid final round to capture the 2008 Collegiate Disc Golf Championships. Challengers from the University of Kentucky, Clemson and Virginia Tech could not touch the lead built by UGA but fought hard none the less. After the final day of play, the final results were:
    * University of Georgia -34
    * University of Kentucky -26
    * Virginia Tech -24
    * Clemson -24
    * University of Alabama -14
    * Nebraska -10
    * Georgia Southern +5
    * UAB Birmingham +18
    * Georgia College +60
    * East Georgia College +75
    * Southern California +172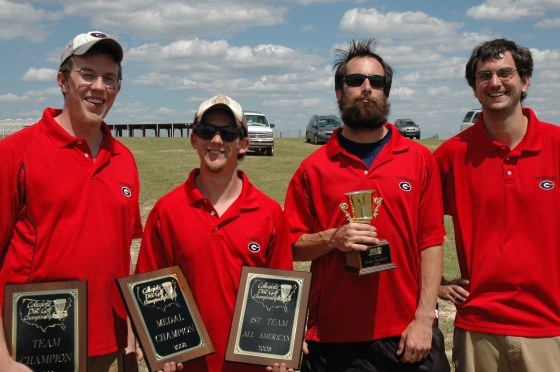 Look for PDGAmedia coverage of the event this weekend at PDGA.com including scoring and photo galleries. 
For information regarding the collegiate championships, visit the National Collegiate Disc Golf Union's website at: