Climo Wins Atlanta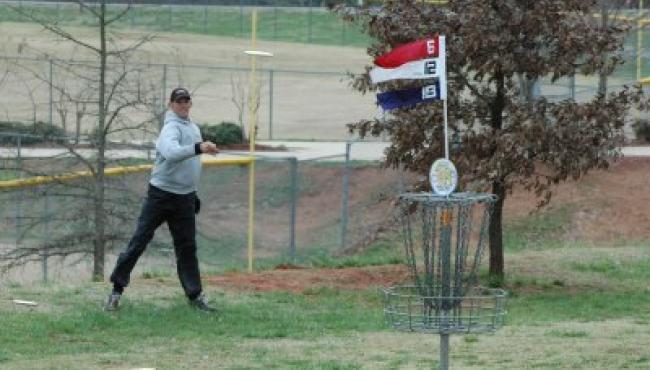 Re-committed Climo Captures Atlanta Open presented by RE/MAX NT Event. Val Jenkins Runs Away with Women's Open Crown
---
By Dr. John G. Duesler, Jr. 
If anyone was wondering how the drama would unfold Sunday at The 2009 Atlanta Open presented by RE/MAX, they needed to look no further than the morning round's first six holes to find out. 
Ken Climo took full advantage of his precision long game at the expanded Cumming's Central Park course, as well as some early mistakes by his closest competitors, David Feldberg, Barry Schultz, and Kevin McCoy, to quickly distance himself from the field and cruise to a four-throw win at the first PDGA National Tour event hosted by the Atlanta Disc Golf Organization. 
"I had a two stroke lead over Dave.  I wanted at least to hold my lead going into the last round," Climo said during a phone interview after his impressive performance.  "But my lead swelled from two to seven in just a matter of six holes.  It was a collective of things throughout the first six holes today that really made the difference," Climo explained, clearly pleased to win his first National Tour title since The Golden State Classic in May of 2007. 
Climo and success have been synonymous throughout his storied disc golf career, but Climo's title this weekend was the result, not just of his great play, but his detailed preparation, as well. 
Ken Climo with caddy during the 2009 Atlanta Open
"It was a pretty special weekend," Climo beamed.  "I brought a friend of mine to caddy for me, because I knew the weather was going to be really bad, and it paid off." 
Climo also cited his knowledge of the courses gained during his victory at the 2008 Atlanta Open Super Tour as a factor contributing to this year's win and the $1700 first place check.  But the real key to Climo's resurgence is his renewed excitement about disc golf and the 2009 season.   
"I felt like I needed to step it up a little bit and re-commit myself a little more," Climo said.  "I don't practice as much as I used to.  But I committed myself to playing mentally as strong as I possibly can this year.  Trying to get rid of mental mistakes; that's what golf is all about," for Ken Climo.  Climo clearly avoided any major mishaps on the course this weekend, wiring the field through all four rounds. 
And if this is any indication of what 2009 holds in store for "The Champ," the disc golf world should prepare for Climo continuing to stay atop leader-boards inhabited with the fine young talent the sport is now enjoying. 
"I plan on playing as many NTs as I can this year," Climo said.  And that, combined with his dominating performance this weekend, should serve notice to his younger competitors that this 41-year old still plans to, not just compete, but to win.  And "winning never gets old," according to Climo. 
In the women's Open division, Val Jenkins was never challenged all weekend, and made it four PDGA Titles in a row in 2009 with her dominating win at The Atlanta Open.  Jenkins's game continues to improve each week, which spells trouble for the other women on the tour.  Indeed, two of her four rounds this weekend were 1000-rated, which puts her performance atop any division in disc golf, male or female. 
---
Links:

Results at PDGA.com
Video Highlights of Sunday's Coverage
Video Highlights of Saturday's Coverage
Atlanta Open Website