Shout-out for Becky Zallek #9388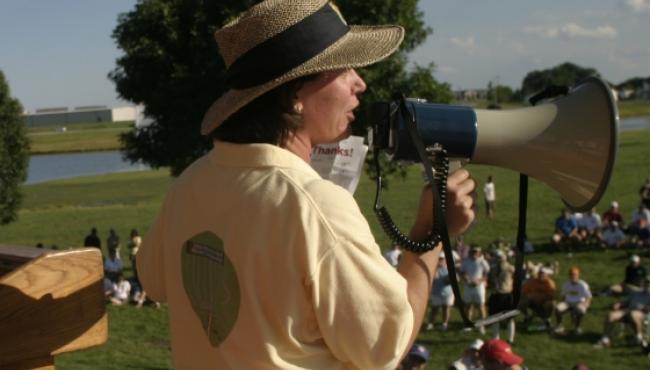 Becky Zallek PDGA #9388 has been battling Glioblastoma (GBM) a type of brain cancer for well over a year now. The doctors found a new tumor back in December and Becky underwent her third brain surgery on January 30, 2013; an eight hour procedure to hopefully remove the tumor.
Becky has been very influential in the sport of disc golf and a very active contributor to the PDGA over the years. She has spearheaded many projects in the Des Moines, Iowa area including serving as Co-Tournament Director of the 2004 PDGA World Championships, widely considered one of the best ever. Becky was also a volunteer in helping develop and review past PDGA World Championship bids. In July of last year at the 2012 World Championships in Charlotte, Becky was the recipient of a special award for her dedication and contributions to the PDGA and the sport of disc golf. 
When asked about the surgery, Becky just said that it was a "bummer" but she maintains such a positive mental attitude, which can be difficult for most of us during such trying times.
As fellow disc golfers and PDGA members, let's all show Becky how much we appreciate her by sharing with her our thoughts, prayers and words of encouragement. You can share your message with Becky at Caring Bridge.