Alabama DGC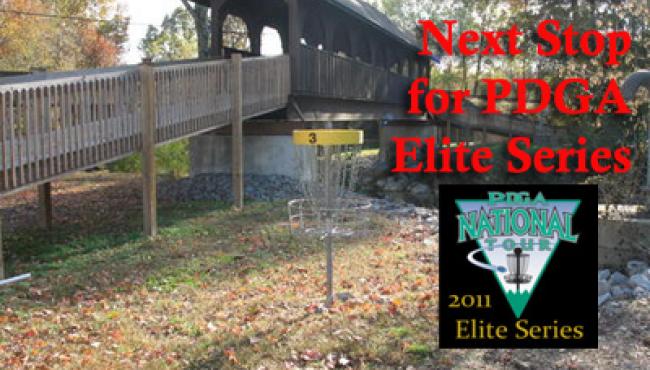 Alabama - Next Stop on PDGA National Tour Elite Series

The state of Alabama has played an important role in the history of disc golf and disc golf history will surely be made this weekend during the Alabama Disc Golf Championship. When disc golf fans reviewed the 2010 PDGA Tour results for the Alabama Disc Golf Championship, the nearly $15,000 purse surely had to get one's attention. Yet, upon reading further down the tournament report and seeing this purse was divided between a mere 54 players, many had to be wondering, "What the heck is going on with Alabama disc golf?" 

What many of the newest generation of disc golfers may not appreciate is the rich legacy of disc golf that has long been a part of the Alabama scene.  No discussion of our great sport in the Crimson Tide state can begin without the mention of Hall-of-Famer Lavone Wolfe.  And while Wolfe would most likely down play the leadership role he provided as far back as directing the 1993 PDGA World Championships in Huntsville, those in the know understand and appreciate the solid foundation Wolfe established for the growth of Alabama's disc golf activities.  There were plenty of other disc golf leaders who helped raise the stakes for disc golf in Alabama.  Tom Monroe, from Hoover, built courses and established his early disc golf business in Alabama on his way to becoming a disc golf Hall of Fame member. Dean Tannock, from Toney, won plenty of those early tournaments to become known as one of the state's top players.  And Jim Orum runs a great disc golf business, while raising one of the best young players we now have in the sport. 
The Alabama Disc Golf Championship is a hybrid of the long-held Alabama State Championships and the United States Disc Golf Championship, of which Wolfe has done significant behind the scenes work.  His quiet, but active, approach to disc golf promotion has helped Wolfe create a great rippling effect that has created another generation of leaders.  Alabama DGC's Tournament Director, David Glass, is one of these outstanding leaders.  His outstanding promotional skills has added a richness, both financial and competitive, to this latest disc golf manifestation in Athens, Alabama. The success of the ADGCs is due in no small part to Glass's work and willingness to consider, implement, and share other people's ideas on how to run a great tournament. 

It is this open-minded approach that has attracted the top players to Alabama events for four decades now.  Last year's Alabama Disc Golf Champion winner, Gregg Barsby, will again make the trek from California to defend his title.  But recapturing his Alabama title will not be easy for Barsby at the Athens Sportsplex course.  Eight of the top ten ranked disc golfers in the world will be in Athens this weekend to grab that title away from Barsby and to cash in on the lucrative prize for which this event has caught our attention.  Native son, Matt Orum, will be especially worth watching, as his pride in Alabama disc golf is a direct result of the great role models he has grown up with, including his father, who guided Matty O. since early in his career. 

All together, Alabama has played an integral role in the success of disc golf throughout our history.  And with all the great talent gathering this weekend for the PDGA Elite Series event, history will surely be written again during this thrilling event. 

There is more good news coming out of Athens too, as plenty of room still exists for professional disc golfers to enjoy the fantastic experience.  To register for the Alabama Disc Golf Championship, just click over to www.pdgasignup.com/Qstore/Qstore.cgi?CMD=011&PROD=1296588556

You can also follow all the exciting action from Athens, Alabama on www.pdga.com.