2010 Presidents Cup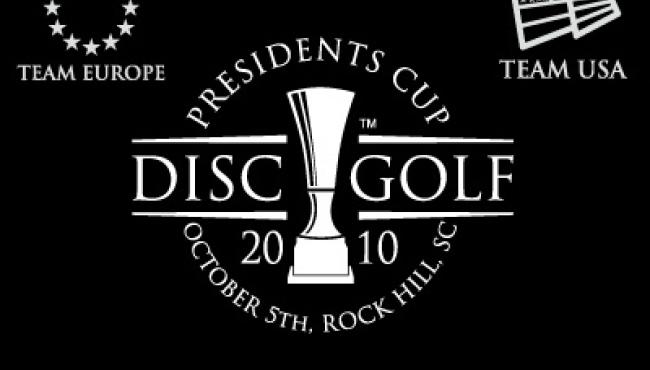 On September 15th Disc Golf President's Cup team captains David Greenwell (USA) and Hans "Hasse" Tegeback (Europe) announced their highly anticipated captains choices for the upcoming President's Cup matches in Rock Hill, South Carolina. Both captains were challenged with choosing from a very talented pool of prospective team members to round out their rosters. In the end, David Greenwell chose 2010 world champion Eric McCabe while Hans Tegeback chose 2010 Finnish champion Jesse Heinonen of Finland.
Founded in 2006, The Disc Golf Presidents Cup is one of the newest international disc golf events. The idea for the Presidents Cup was to showcase the sport of disc golf at its highest professional level by staging international matches between the top American and European Disc Golfers. The first three team matches took place in Tampere Finland in 2006, 2007 and 2009 prior to the European Open, and were won by Team USA. A detailed PDGA Media article on the 2009 match can be found at PDGA.com
---
Now in its fourth year, The Presidents Cup is finally coming to the United States and will be contested October 5th on the world famous Winthrop Gold Course, just one day prior to first round of the United States Disc Golf Championships in Rock Hill South Carolina.
Team USA was announced on August 1, following the PDGA Disc Golf World Championship, which was the final qualifying event for the American team.
OPEN
1. David Feldberg
2. Nikko Locastro
3. Josh Anthon
4. Ken Climo
5. Nathan Doss
6. Eric McCabe
WOMEN
1. Des Reading
2. Valarie Jenkins 
Team Europe was finalized following the completion of the European Championship, which was the final qualifying event for the European team. Right after the event Team Europes captain Hans Tegebäck got bad news when Europes leading players Jesper Lundmark and Markus Källström announced their withdrawal. As a result of this stunning announcement as well as others unable to attend the event, the final European team will be:
OPEN
Karl-Johan Nybo (Denmark)
Emil Dalhgren (Sweden)
Juho Rantalaiho (Finland)
Espen Mökkelgjerd (Norway)
Johannes Högberg (Sweden)
Jesse Heinonen (Finland) 
WOMEN
1. Birgitta Lagerholm (Sweden), 430 points
2. Camilla Jernberg (Sweden), 350
There were five ways to earn qualifying points and one of the coveted spots on each team:
Team USA Qualifiers:
World Rankings
Memorial Championship
Japan Open
Scandinavian Open
2010 PDGA World Championship
Team Europe Qualifiers:
World Rankings
Copenhagen Open
Japan Open
Scandinavian Open
European Championship
Six men and two women are selected to represent each team. Each team will also nominate one player as a reserve in the event of an injury. Five men and two women will qualify based on points and the team captain will get a captains choice selection of one male player.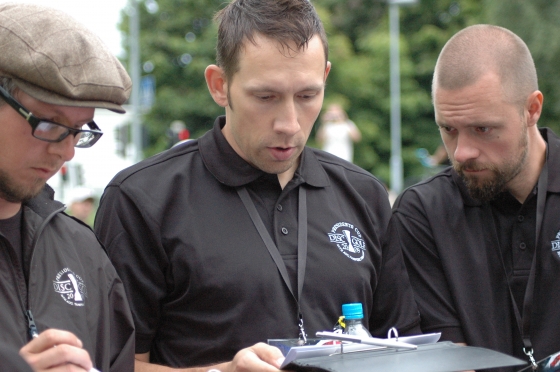 Jussi Meresmaa (center) and Janne Kotka (right) bring the Presidents Cup matches to the USA in 2010

The Presidents Cup is truly a unique event with a very special international flavor. We hope that you will join us at the world famouns Winthrop Gold course in Rock Hill, SC on Tuesday Oct. 5th at 12:45 for team introductions and the start of the matches to determine who will win trans-atlantic bragging rights for the next year.
For additional details, visit the Presidents Cup website:
http://www.discgolfpresidentscup.com/event-info/
---
2010 Final Qualification Standings
2009 Presidents Cup Photo Gallery
2009 Presidents Cup Team Members 
2007 Presidents Cup Team Members