2009 U.S. Women's Disc Golf Championship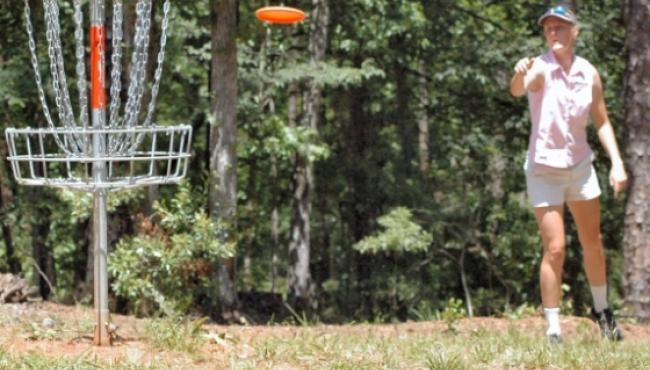 Sarah Stanhope Wins 2009 US Womens Championship
Sarah Stanhope comes from behind to win the 2009 US Womens Disc Golf Championship in  the Quad Cities (IA/IL) by three shots over current World Champion, Valarie Jenkins.
  Her final round of 61 on the extremely tough West Lake course was unofficially rated  at 1021 which would be the second best round by a woman on courses in that SSA range.  This tops her other top 10 round in that course category shot during the Vibram Open  less than a month ago.
Liz Carr started off the final round with a slim lead over Jenkins with Sarah in  third. Liz struggled on the first three holes going from a one throw lead to a three  throw deficit behind Jenkins. Stanhope gained her first shot on Jenkins on the fourth  hole with a birdie 4 on the dam shot across the water (it's really a big grassy dam).  Carr continued to lose ground to Jenkins while Stanhope matched her until gaining  another shot on the tough uphill punch shot on the ninth hole with tucked pin  placement.
Valarie's double bogey 7 on the long par 5 13th hole (18 on the course) along with  Stanhope and Carr's pars pulled Stanhope into a tie with Jenkins with five holes to  play. After push bogeys on 14, Stanhope turned on the jets and birdied the next three  holes gaining three on Jenkins and coasted into the Championship with a par on 18.  Carr kept fighting to catch Jenkins for second but those early hole problems proved  the difference.
Congratulations to the other National Womens Champions: Barrett White Master Pro, Lisa  Warner Grandmaster Pro, Leslie Charles Sr Grandmaster Pro, Alexandria Mero Advanced  Am, Marie Fry Advanced Master Am, Christine Savvakis Intermediate Am, Carrie Ricketts  Recreational Am. Another successful Womens Championship with new titleists in several  divisions. Get ready for Jacksonville, NC in 2010!
---