|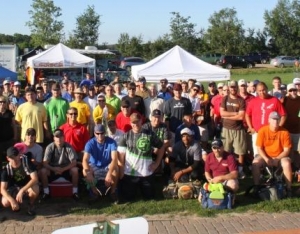 Paul McBeth Grabs First Round Lead at Minnesota Majestic
The torrential rains of the past week finally stopped, the sun decided to peek out, and the 25th Minnesota Majestic teed off right on time at beautiful, bright green Blue Ribbon Pines DGC in East Bethel. Paul McBeth threw down the best score, a terrific 71 (-10) on the tough, but fair BRP layout. Two throws behind him is homeboy Dustin Honold from Edina who claimed shot-o-day honors. What a shot it was!
On the 750-foot 18th hole, he tossed his drive to the 400-foot sign, then heaved his Wraith hoping for a putt. "I thought I overthrew it and then it smashed chains dead center. I could not believe it," recounted Dustin. His fairway ace is thought to be the only 2 ever carded on BRP's long #18 which has an OB-ditch slashing across the fairway.
Rounding out the top card for Saturday's morning round at The Valley DGC is 12-time World Champion Ken Climo and 2008 World Champ Dave Feldberg. A gallery of about 20 followed Ken's foursome around the course. Both the Champ and the Borg are three throws off the pace. Nipping at their heels are Gregg Barsby, Will Schusterick, 2010 World Champion Eric McCabe, and Paul Ulibarri.
In the Women's Open, Sarah Stanhope, former World Champion and ranked 2nd in the world, is tied with another former World Champion, Des Reading. Both shot 88s (+7). Catrina Allen and 2011 World Champ Paige Pierce are two and five throws back respectively.
Keeping pace nicely with his leading lady Des, Jay "Yeti" Reading leads Masters by three shots over Phil Arthur. Phil and Yeti finished 2nd and 3rd in the 2011 Worlds behind Jonathan Baldwin. Jim Beilby and Iqbal Jehan will share the top Masters card Saturday morning at The Valley.
In Grandmasters, Doug Peyton from Iowa leads Minnesota Frisbee Association veterans Bruce "Big" Novak and Chris "Porterhouse" Porter by three shots.
The MFA's crown jewel, the Minnesota Majestic has grown steadily over the past 25 years. At the 1987 Majestic, a video rental store kicked in an extra $100 to sweeten the purse, and Iowan Tom Cremer won $250 in the Open division. This year, thanks to generous donations from Surly Beer, Gotta Go Gotta Throw, Sundog Tournament Series—and many others—the purse will be pumped up by a hefty $10,000. A huge gallery is expected for the Final 9 Sunday afternoon at Hyland Ski and Snowboard—and Disc Golf—Area in Bloomington.
Written by: Joe Feidt, # 362
Photo by: Wisch Photography